about us
Discover the Best Virtual Corporate Events on the Web!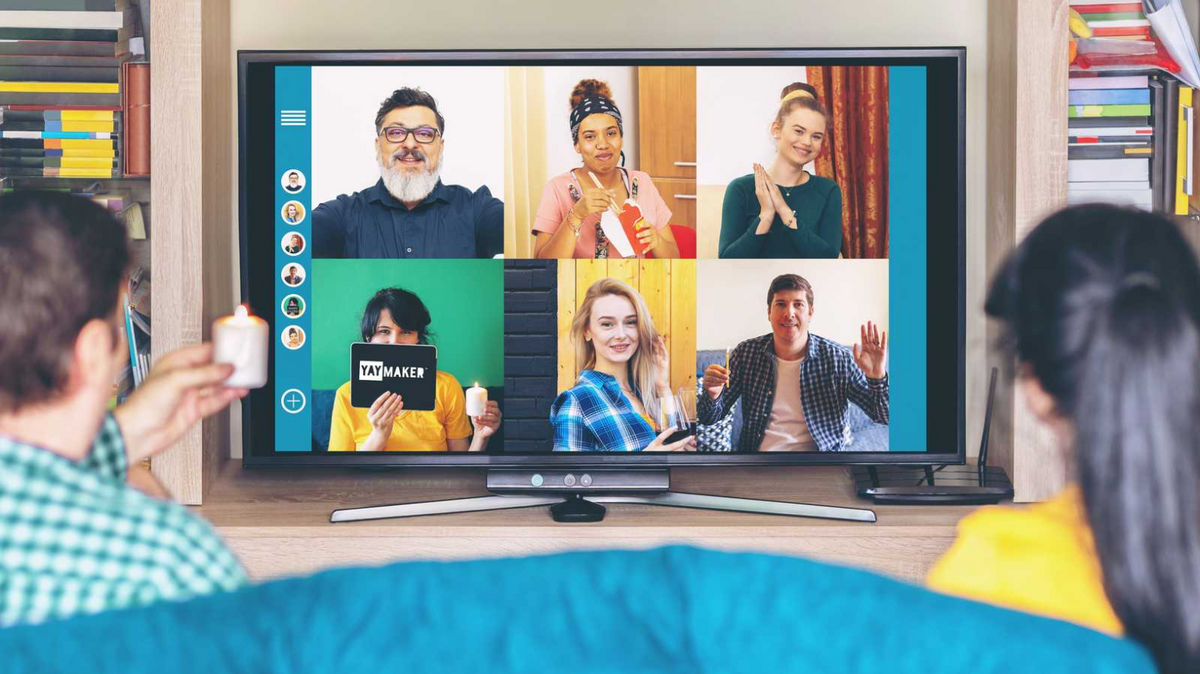 Claiming we have the best virtual corporate events may seem like a bold move, but when we have the likes of Google telling us, well…how can you argue with that? 
"The Google team had so much fun playing Winning Opinions. We all agreed it was our favorite team event we've ever done!" – Marissa Karen, Google
Booking virtual team-building events may feel like stepping into the unknown, but we have them down to a science and are ready to lead the way.
To make you feel even more confident, we'll also throw in a few more testimonials (because who doesn't love scrolling through the reviews before trying something new)!
What is a virtual corporate event? 
Just like corporate social events held in-person, virtual events bring your team closer together and boost morale—only from a screen instead. You can still enjoy lots of laughs, try something new, and see the boss in out-of-work-mode!
Not only are virtual events amazing for employees and workplace wellness, but for wining and dining your clients too. Plus, we have unique add-ons to give them the extra wow factor.
How do our corporate social events work?
We typically run our events through Zoom, except for our game show. However, if you prefer a different platform, we're always happy to accommodate.
You can choose from our vast selection of customizable experiences and tell us what time and date work best. Then we'll find the perfect host for the occasion, start planning, and ship any materials straight to your door.
We design all our events to get you interacting with one another. You can talk back and forth with your host and your colleagues through the camera, chat feature, and breakout rooms—it's just as good as being together in person!
What experiences are on offer?
We have everything from virtual games for your corporate events to the Original Paint Nite. A few examples include:
Creative workshops, e.g., candle making

Cooking and mixology classes

Wine, beer, chocolate, and cheese tasting

Live music

Family fun, e.g., magic shows

Event speakers
One of our most popular experiences (and Google's favorite) is our game show, Winning Opinions. It's got a Family Feud vibe to it, but we've found plenty of ways to make it our own.
We also have enhancements that you can add, ranging from celebrity guests (like Brian Baumgartner, aka Kevin from The Office) to wellness baskets.
What makes our virtual corporate events the best?
We'll give you three great reasons. First, our wide variety of customizable experiences mean all your needs are met in one place. Second, we have access to more than a thousand hosts across the country who have endless talents to share. And finally, our Private Events Team provides a service that is second to none, making event planning as easy as pie! 
Have you tried one of our in-person events before? Well, you can expect the same level of energy and passion—many of our hosts have transitioned to virtual events with us. They are total experts in the field and know exactly what you need to have an unforgettable experience.
In addition to our classic events, we've extended our offerings and introduced new talent to make sure there's something for everyone. These guys may be new to us, but they know their stuff, and our guests LOVE them! 
Why not try a cooking class with celebrity chef Stuart O'Keeffe? Or perhaps wine tasting is more up your alley? And let's not forget our unique enhancements that will take your event to a whole other level!
So, if you're ready to book your virtual corporate event, click here. Alternatively, call 855-929-6275 or email groups@yaymaker.com for more information.
As promised, here the reviews…
Google
"The host, Dan Jessup, was so engaging the entire night and did such a great job of getting everyone involved and making us laugh. He kept the game exciting and interesting with his high energy and unexpected surprises. Winning Opinions was the perfect combination of fun, creative, and healthy competition. The hour and a half flew by, and we didn't want the night to end. We all could've kept going for another few hours! Highly recommend." – Marissa Karen, Google
Facebook
"Looking for a fun way to engage your team virtually has been made easier with Yaymaker. I have used Yaymaker for multiple virtual Paint Nites and have received nothing but positive feedback. Participants receive the paint supplies directly to their home and are ready to paint with a LIVE instructor. I think this is a great aspect of the event, as you can ask questions directly to the instructor along the way! I highly recommend using Yaymaker as it was a very fun and seamless experience." – Nicole Holoway, Facebook
Netflix
"Our team had a great time! We can't stop talking about how much fun we had and how great of a host, Jenna Smith was. She made the whole experience so enjoyable. Thank you so much for all of your help, and thank you to Jenna for being a great host." – Hayley Pascale, Netflix
"Yaymaker, and more specifically, Winning Opinions with Dan Jessup, awarded us an opportunity to bond over wholesome laughter. Almost all of the participants reached out to me individually to state their appreciation for the event. We are already in the process of scheduling our next event. 10/10 would recommend!" – Sr. Director of Sales, ZipRecruiter
Google
"Thank you both so much for making such a fun event happen! I've received non-stop messages from the team with pictures and giving thanks from the event today." – Haylee Locke, Google