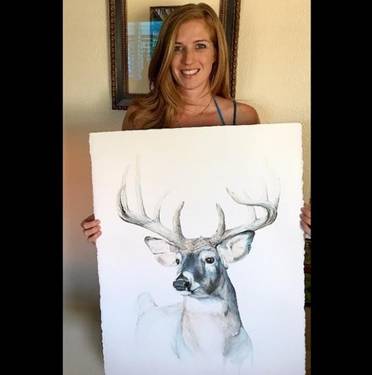 Smith Michelle
---
Hosting since October 2017
42 events hosted
---
Hello, my name is Michelle Smith and I am a 28 year old artist from southern Florida. For the past 6 years, I have been working as a professional artist.
In college, I was a studio art major with an emphasis in oil painting. While painting with oils was my first love, I have since then made room in my heart for watercolors, acrylic and mixed media as well. Basically anything with a brush and paint; I love it!
My artistic journey began when I was in middle school or perhaps even later. I have always been creative but never really considered myself an "artist" until a family friend, who was also an artist, saw one of my drawings. I remember feeling surprised when she told me, "no dear, you are definitely an artist".
I'm so thankful for this person because she really encouraged me to pursue and develop my skills. My hobby grew from just that, a hobby into what is now my livelihood.
I believe a lot of people are artists and they don't know it, which is why PaintNite is so great! You may think you are coming for drinks and a good time but what you may not know is that you are an artist too!
It's a fun journey of discovery and I'm excited to be a part of it!
If you want to follow my continuing journey as a artist, follow my instagram @Works_in_Color