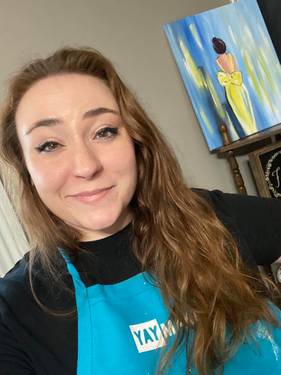 Stacey Kress
---
Hosting since September 2019
79 events hosted
---
Hey there, I'm Stacey! Let me start off by saying that I'm "Just a small town girl..."

Just kidding! But, if you can finish the lyrics we're going to be fast friends! There are very few things I enjoy more than quoting songs in every day conversation, but helping people find their escape from the daily grind is definitely up there! That's why I'm so excited to be a part of this wonderfully artistic community.
They say if you do what you love you will never work a day in your life, but there's nothing wrong with having some fun hobbies when you're not at that 9-5! While I'm not WORKING working, I like to spend my time making a mess, whether it is in the garden, in my kitchen, or on a canvas!

Messes?? YES! There's just something magical about getting your hands dirty and making something of your own. After all, life can get messy once in a while too! Sometimes we just need to let loose and allow that energy to flow out and see what we can make of it!

If you start to feel like you need a break from the daily grind or just want to kick back and relax, I promise to be there to help encourage, inspire, and assist in discovering your inner artist!